Past News and Events Archive... for current happenings, check out the news page.
---
---
9/13/01:
Toad's Place and Irving Plaza shows cancelled. Possible rescheduling of Irving Plaza show will be decided by 9/19. Here are the official details:
OYSTERHEAD CANCELS SHOWS AT TOAD'S PLACE AND IRVING PLAZA

In light of the tragic events that occurred yesterday, both OYSTERHEAD shows scheduled for this weekend will not take place. The Toad's Place show, scheduled for Friday, September 14, will not be rescheduled. Refunds for this show may be obtained at the Toad's Place Box Office only beginning Monday, September 17 at noon.
Refunds for the Irving Plaza show, scheduled for Saturday, September 15, may be obtained at point of purchase. Refunds for tickets purchased at the Irving Plaza Box Office will be available beginning Thursday, September 13 at noon. For tickets purchased over the phone or via the Internet, please call Ticketmaster at 212.307.7171 to obtain a refund. However, there is a possibility that the Irving Plaza show MAY be rescheduled for a later date in advance of the Oysterhead tour that begins in late October. If you are holding tickets to the September 15 show, you may wish to hold them before getting a refund as all tickets to this show would be honored at the rescheduled show. We will make an announcement no later than Wednesday, September 19 as to whether the Irving Plaza show will be rescheduled.
In addition to the above cancellations, we have changed the on-sale dates of some of the OYSTERHEAD fall tour dates going on sale this weekend. Please note new on-sale dates for the following cities (the Oysterhead web site may not yet have updated information):
Ann Arbor: 9/21 at noon
Asheville: 9/21 at 10am
Camden: 9/22 at 10am
Lowell: 9/21 at 10am
Trey, Les, and Stewart, as well as everyone in the band's crew and staff, extend their deepest sympathies and condolences to all of those affected by this tragedy.
---
9/5/01:
Oyster season officially started this weekend! The rule of thumb is only eat oysters in months with "R" in them. Perhaps we'll never have the chance for an Oysterhead summer tour.... ;) To welcome in Oyster season we've added some fresh rawviews.
If you ordered Tickets-By-Mail, you should have received an email confirmation of your order status by now. The bulletin board system is not up yet, but as soon as we iron out some technical difficulties you'll be the first to know.
In the meantime, sign up for the oysterhead-talk discussion list, and shoot the halfshell with some other fans.
We're experimenting with the appearance of the website. THE OLD LINKS were this color blue, THE NEW LINKS are this color. Email us if you have a preference or idea for something different (we will be sticking with the internet standard blue for links, and websafe colors only, of course). Thanks!
---
8/30/01:
The opportunity to order Tickets-By-Mail online ended last night at 11:59pm. According to the confirmation email from OTBM, the orders will be filled in the next couple days! ("As of now, you have not purchased any tickets, but make sure that your card is ready to do so anytime between August 29th - August 31st.") We will have an extra ticket bulletin board online very soon.went on sale today at noon for the Irving Plaza show on Sept. 15th.
---
8/23/01 (12:45pm):
Tickets went on sale today at noon for the Irving Plaza show on Sept. 15th. Reports are disappointing, to say the least, regarding even the possibility of getting tickets. The phone number listed on both the official Oysterhead.com site and the Ticketmaster event page led to an automated ticketing system that did not even list the event. Finding a menu that gave a choice to speak to a real person resulted in a message saying you were connected to an automated-only system, but to speak to an agent dial the same number?!?! After finally reaching an agent at a ticketmaster outlet for Northern New Jersey/NYC, they reported the show was completely sold out.
Likewise, online at the Ticketmaster website, using two different computers with ISDN connections, not a single purchase opportunity ever happened, even within seconds of the purchase page appearing. More often than not, the "We are unable to fulfill your specific request" message would appear, and when it didn't, the page would hang during receipt of the purchase acceptance page, never fully receiving.
We hope at least some fans were successful in getting tickets for Irving Plaza, and that the underground ticket broker monopoly can be subverted.
---
8/21/01:
Official word at last from Oysterhead! Confirmation of Fall Tour, Tickets-By-Mail info, the new album The Grand Pecking Order (with MP3s!), and the Official Taping Policy. The excitement is just beginning as we near the first on sale date, Thursday, Sept. 23.
Fall Tour turned out as last reported, with the correction of the first two dates being in September, not October (Toad's on 9/14 and Irving Plaza on 9/15). Lake Trout will be opening both nights. It's reported on the official Oysterhead site that while the NYC show is part of the CMJ Music Marathon festival, most tickets will be up for sale to the general public on Sept. 23rd. That's good news, since most CMJ events are filled by CMJ participants (at $400-$500 pass prices!), and tough tickets for non participants. We still expect to see the Irving Plaza show sell out in a matter of minutes, so be ready with the speed-dial!
Tickets will be available for the Oct/Nov shows via the Oysterhead Tickets-By-Mail service online (similar to the test run of online ticket sales by phish.com for the last Trey Anastasio Band tour). It's a six day period to order, pure lottery with no benefit for earlier placed orders.
Details on the new album, The Grand Pecking Order, are also confirmed, with the release date set of October 2. Satisfy your hunger for fresh raw Oysterhead... the official Oysterhead site has MP3 downloads of portions of three tracks, "Oz Is Ever Floating," "Shadow Of A Man, "Wield The Spade," and the entire song "Mr. Oysterhead"!!! Please send us your send us your reviews of these releases for inclusion on the Oysterhead.org site. Check out reviews others have sent.
Finally, tapers (and traders alike) who were sweating the rumors of "no taping at Oysterhead" can breathe easy, with the announcement of the Oysterhead Audio Recording and Transfer Policy. Seems basically the same as Phish, but you can read the fine print if that's what spins your reels.
It's going to be an exciting Fall with all this fresh Oysterhead. Keep in touch with Oysterhead.org for info and communication with fellow fans. And please tell others about the oysterhead.org site. The more people know and contribute, the better it will become. Thanks for your support!
---
8/20/01:
This appears to be the tracklist for the first Oysterhead album, as extracted from a now-missing page on the oysterhead.com site:
OYSTERHEAD
The Grand Pecking Order

1. Little Faces (4:57)
2. Oz Is Ever Floating (2:49)
3. Mr. Oysterhead (4:51)
4. Shadow Of A Man (3:44)
5. Radon Balloon (3:21)
6. Army's On Ecstasy (4:31)
7. Rubberneck Lions (5:17)
8. Polka Dot Rose (3:10)
9. Birthday Boys (3:06)
10. Wield The Spade (5:48)
11. Pseudo Suicide (4:54)
12. The Grand Pecking Order (2:35)
13. Owner Of The World (2:45)

Produced by Oysterhead
Recorded by Oz Fritz at The Barn, Vermont, April 2001
Mixed by Toby Wright at The Plant, Sausalito, California, May-June 2001
Mastered by Stephen Marcussen for Marcussen Mastering, Hollywood, CA

CD: Elektra 62677-2 / LP: Elektra 62677-1
---
Reports indicate Lake Trout has yet to announce it's schedule for Sept. 14th and 15th. You decide what that means. Or should we just get to the point?
---
Latest rumored Oysterhead Fall Tour 2001 (not confirmed until released on oysterhead.com, expected later today or tomorrow)
10/14 - Fri New Haven, CT Toad's Place (this said "10/14" but probably means "9/14")
10/15 - Sat New York , NY Irving Plaza (this said "10/15" but probably means "9/14")
10/21 - Sun Seattle, WA The Paramount
10/23 - Tue Vancouver, BC Orpheum Theatre
10/24 - Wed Salem, OR Salem Armory Auditorium
10/26 - Fri Berkeley, CA Greek Theatre
10/27 - Sat Los Angeles, CA Hollywood Palladium
10/30 - Tue Denver, CO The Fillmore Auditorium
10/31 - Wed Denver, CO The Fillmore Auditorium
11/02 - Fri Chicago, IL Aragon Ballroom
11/03 - Sat West Lafayette, IN Edward C. Elliott Hall of Music
11/04 - Sun Ann Arbor, MI Hill Auditorium
11/06 - Tue Cleveland, OH Cleveland State Theatre
11/07 - Wed Toronto, ONT Massey Hall
11/09 - Fri Utica, NY Utica Memorial Auditorium
11/10 - Sat Lowell, MA Tsongas Arena
11/11 - Sun Camden, NJ Tweeter Center
11/13 - Tue New York, NY Roseland Ballroom
11/14 - Wed New York, NY Roseland Ballroom
11/16 - Fri Washington, DC D.A.R. Constitution Hall
11/17 - Sat Asheville, NC Asheville Civic Center
11/18 - Sun Gainesville, FL Stephen O'Connell Center
These dates were listed on the official site but not yet linked from the main page. See http://www.oysterhead.com/tour/tour.html and http://www.oysterhead.com/news/news.html.
Update: the pages are no longer accessible. Perhaps we'll have official word later today!
---
8/18/01:
The Oysterhead appearance at the CMJ Music Marathon has been confirmed for September 15th, at the Irving Plaza, NYC. Tickets go on sale from TM on August 23, 12:00 PM. Click Here for the Ticketmaster page concerning the event. Thanks to Eric P. for the update.
---
8/17/01:
It appears Oysterhead is expected to perform somewhere in NYC between Sept. 13-16 for the CMJ Music Marathon. The exact date and venue are still unknown. If you hear more, please contact us! Thanks to Paul S. for the tip.
---
8/15/01:
An update on the rumored tour dates: The Seattle and Portland dates had at one point shown up on a ticketmaster search, but don't now. That still seems to indicate they are very likely (just still under wraps). One reader reports that the American Theater in St. Louis may be closed.... Checks of other venue calenders indicate that nothing has currently been scheduled for the rumored tour date where applicable.
---
8/14/01:
Trey appears in Relix Magazine, calling him "the musical voice of a generation," with discussion about Oysterhead, Trey Anastasio Band, and life without Phish.
---
8/12/01: ***RUMOR*** (updated 8/16/01) (outdated 8/20/01)
Here's an absolutely un-confirmed unofficial rumored tourdate list for Oysterhead Fall Tour 2001:
10/15 Royal Albert Hall, London, England
10/16-18 Paradiso, Amsterdam, The Netherlands
10/19 Divadlo Archa, Prague, Czech Republic
10/22 Paramount Theater, Seattle, WA
10/23 Hult Center, Eugene, OR
10/24 Schnitzer Concert Hall, Portland, OR
10/26-27 Warfield Theater, San Francisco, CA
10/28 Wiltern Theater, Los Angeles, CA
10/30-31 The Fillmore, Denver, CO
11/2 American Theater, St. Louis, MO (One reader reports this venue may be closed?)
11/3 Memorial Hall, Kansas City, KS
11/4 Aragon Ballroom, Chicago, IL
11/5 The Orpheum Theater, Memphis, TN
11/7-8 Fox Theater, Atlanta, GA
11/10 Memorial Hall, UNC, Chapel Hill, NC (looks like another event scheduled already, but the following night is open)
11/12 Patriot Center, Fairfax, VA
11/14 The Liacouras Center, Philadelphia, PA
11/16-17 The Beacon Theater, New York, NY
11/18 Palace Theater, Albany, NY
Confirmation expected later this week!
---
07/18/01 -- Red Rocks Ampitheatre, Morrison, CO
First live performance of the Oysterhead song "Radon Balloon" by Trey during a Trey Anastasio Band show at Red Rocks. According to Trey, the song will appear on the first Oysterhead album.
---
5/20/01 -- Les and Trey join Alan Hertz:

Oysterheads Les Claypool and Trey Anastasio sit in with Alan Hertz and Friends at the Fourth Street Tavern in San Rafael, CA. The band consisted of Alan Hertz (drums), Joel Behrman (trumpte), Ed Ivey (bass), Tal Morris (guitar), and Byron Rynes (guitar). Reportedly, Les and Trey sat in for most of the third set, with only 3-4 dozen people in attendance and at least one taper running a 4 Mic Mix On Stage:
Rode NT2 (Cardioid) + Crown PZM -> Behringer MX1604A -> Sony SBM-1 -> Dat (Sony D8)
Update (8/30/01):
Thanks to Brian and Dankseeds for providing the full setlist and additional info:
Alan Hertz Project - 5/20/01
4th Street Tavern - San Rafael, CA
Mics: Set 1: Rode NT2 Cardioids, on stage, front
center, about 3 feet high.
Sets 2 & 3: 4-mic on stage mix(Rode NT2
Cardioids+Crown SASS-P PZM). Rode's were left front center,
Crown's right front center, both about 3 feet high
Source: mics>Behringer MX1604A>Sony SBM-1>Sony
D8(44.1kHz)
Transfer: Sony 670>Zoltrix Nightengale via optical
cable> Samplitude v5.32>CDWAV v1.6>mkwACT v.97b1
(seek tables appended) *NO DAE*
Edits: None
Note: There are what sound like errors on d2t02 at
09:25 and 09:28 - these are both noise from the stage. There
is also a slight volume adjustment at 01:48 of d1t01,
which exists on master DAT. Master DAT also clips a few
times.
Taped and mixed by Charlie Miller
Transferred and seeded via Dankseeds by Brian Feller

Disc 1 56:41
Set 1
01. Theme 1 07:21
02. Theme 2 07:31
03. Theme 3 08:38
04. Theme 4 05:03
05. Theme 5 14:52
06. Theme 6 06:07
07. Theme 7 07:07

Disc 2 71:49
01. Tuning Up 02:22
02. 17:12
03. Anorexia 10:59
04. Madagascar 09:41
05. 11:13
06. Better Get Hit in 09:42
Your Soul
07. Band Intros 01:18
08. Doin' It to Death 09:18
Disc 3 - Set 3 52:51
01. Trey gets the tour* 02:48
02. Jam 1* 13:02
03. Listen Here# 13:21
04. Jam 2% 11:51
05. Cissy Strut% 10:03
06. Post show thanks 01:44

*w/ Trey instead of Tal
#w/ Les and Tal, no Trey or Bryon
%w/ Trey and Les, no Byron

Alan Hertz - drums
Ed Ivey - bass and horns
Tal Morris - guitar
Byron Rynes - guitar and bass
Joel Behrman - trumpet and trombone
Special guests for set 3 Trey Anastasio (guitar) and
Les Claypool (bass)
---
04/03/01 -- Oysterhead in the Barn
Efforts underway to produce the first Oysterhead album at Trey Anastasio's Barn Studio in Vermont. Working with Oz Fritz (Tom Waits, Primus, Bill Laswell) at the board, recording will continue into May. Likely release date sometime this fall coinciding with a live tour.
---
02/21/01 -- TAB, The Orpheum, Boston, MA
The Trey Anastasio Band performs the song "Happiness In My Pants" for the first time, an Oysterhead song debuted at the 05/04/01 Saenger Theatre first show.
---
09/29/00 -- Oysterhead appearance in Las Vegas
Trey Anastasio and Stewart Copeland take the stage with Les Claypool for an Oysterhead reunion of sorts during a performance of Colonel Les Claypool's Fearless Flying Frog Brigade at the House of Blues Mandalay Bay.
Colonel Les Claypool's
Fearless Flying Frog Brigade
9/30/00
The House Of Blues
Mandaley Bay
Las Vegas, NV
Set I:
Thela Hun Ginjeet
Shattering Song
Hendershot
Shine On You Crazy Diamond
Riddles are Abound Tonight
Set II:
Pigs on the Wing
Dogs
Pigs (3 Different Ones)
Sheep
Pigs on the Wing
Encore:
Used To Be The Owner of the World >
Smoke On The Water >
Used To Be The Owner of the World (Oysterhead, performed by Oysterhead)
Tomorrow Never Knows (Beatles, performed by FFFB & Oysterhead)
---
05/04/00 -- Oysterhead in New Orleans
Coinciding with the New Orleans Jazz and Heritage Festival, Trey Anastasio (guitar, Phish), Les Claypool (bass, Primus) and Stewart Copeland (drums, The Police) form the band Oysterhead for a one night meltdown Oyster roast at the Saenger Theatre.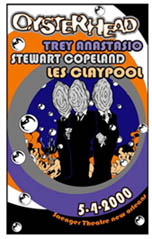 Oysterhead
May 4, 2000
Saenger Theatre, New Orleans, LA
(one set only)
I Am Oysterhead
Mr. Oysterhead >
Floyd jam >
Rubberneck Lions >
Used To Be The Owner Of The World
Blue Ginger
Happiness In My Pants >
Wildwood Weed >
Happiness In My Pants
Sinkin' Down
Pseudo Suicide >
Jerry Was A Race Car Driver (Primus) >
Reba (Phish: chorus only) >
Pseudo Suicide
Encore 1: Immigrant Song (Led Zeppelin), The Israelites (Desmond Dekker), All Day And All The Night (The Kinks)
Encore 2: House Of The Rising Sun
The show ran from approximately 11:05 pm to 12:55 am
---
2/21/2000 -- First Oysterhead Appearance
Trey Anastasio takes the stage at a Primus show in Burlington, VT, introduced as "Edward Van Halen."
Primus
02/21/2000
Burlington, VT
UVM Fieldhouse (a.k.a. Patrick Gymnasium?)
Blue Collared Tweekers > Communication Breakdown The above songs from the show featured Trey Anastasio on guitar. He was introduced as "Edward Van Halen."
Frizzle Fry
In the Flesh
Anti Pop
Sgt. Baker
Greet the Sacred Cow
Damn Blue Collar Tweekers > (with Trey)
Communication Breakdown > (with Trey)
Dueling Banjos >
Toys go winding down >
Damn Blue Collar Tweekers
Jerry was a Racecar Driver
My Name is Mud
Final Voyage of the Liquid Sky
Laquer Head
Crazy Train >
Harold of the Rocks >
Tommy the Cat >
Awakening >
Tommy the Cat
Hello Skinny >
Pork Soda
Electric Uncle Sam
Too Many Puppies >
Hello Skinny >
Too Many Puppies
Perhaps the first Oysterhead appearance ever, but sans Copeland.
At least one taper reportedly archived this show with a Radio Shack Tape Deck

(Info from the Primus Setlist Database at http://www.liath.org/primus/)
---